Confess your most embarrassing moment in selling and you could win this poster suitable for framing. If your story makes the newsletter, you can claim your 8X10 poster. Put this up in your office and get some great laughs of your own.
Tell us about your toughest, most embarrassing moment in sales. At the end of your story, please dissect your experience by sharing the lesson you learned.
Form Object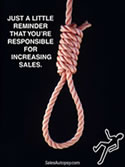 Download a PDF version of the poster here. If you need Adobe Acrobat this is where you will find it.